Forest School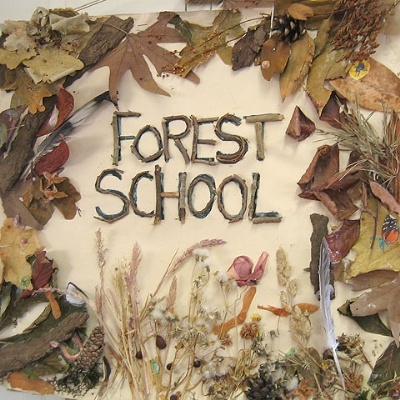 Class 4 had a brilliant time at Forest Schools...
At forest school I made a little house for the little people, it was so fun and we even made dragon snot bracelets.
Me, Billy Jake and Ethan made a big den (that was the BEST part of forest school.) I made a hammock too with Billy and Jake .
It was so fun, the bit I liked the most is when we made the dens.
We made a camp fire with little pieces of wood, then we made popcorn on the fire, we put lots of sugar on the popcorn.
The bit I did not like is that we had to destroy our dens and it was sad L.
By Acer
Water Forest School
This week in forest school was amazing. On the first day of forest school we had to make a den for Reji and we explored the woods. it was really fun. The next day we made a den in groups of four and before we went we made a fire and we cooked popcorn. The popcorn wasn't nice because it was burnt. On the last day we made waterproof dens and then Mr Claxton tested them by pouring water on them. After that we did a sensory trail. It was a really good experience. My favourite part was when we had to make a waterproof den; next time we go up I would like to make more dens.
By Demi and Keira
Monday 16
th
May was when the year 6`s first went into the forest. Our 1
st
Day was spent making houses for Redgie the Rat, Mr Claxtons personal friend. Esme and I made a water proof house, the only one with a roof. We wove twine with sticks and then stuffed the gaps with grass, leaves, bark and moss . we also made a door but it got blocked off and wasn't big enough so Redgie went in through the side , away from the wind .
Tuesday 17th May was the day we made dens AND popcorn. Sarah, Esme , Sam and I worked together to make a den and we made nettle face paint and drew on our faces with charcoal. We were called camp safari. Our den wasn't the best , but it was O.K .
Wednesday 18th May was the last day . I made mats to sit on and we made FABULOUS tents/dens. There was a sensory trail and it was so funny just doing it, never mind watching ! Mr Claxton told us there was a scaredy spirit and to scare it off we drew faces on trees. I bet the silly spirit is so scared now!
I WANNA DO IT AGAIN!!
BY ELLA BURKE
Forest School
I really enjoyed forest school; it was like being little again, because when I was little I used to do forest school. I enjoyed making all the paints from different materials, and making the dens. The popcorn was very tasty, even though the sugar didn't stick.
Next time I think I would like to make some rope and rope ladders. I would also like to do more sensory trails. I didn't really dislike anything, because everything was epic.
What I learnt was how to live and work in a habitat that was not my own.
Here is a recount of what we did:
On the first day of forest school we made houses for Redgie rat Mr. Claxton's special friend, me and Ella made a waterproof house by weaving twigs together and stuffing the cracks with leaves, bark and grass. Our house was for word smart Redgie.
The next day we had a fire, I helped make it. Then we made popcorn on our fire using Mr. Claxton's magical popcorn machine. We made epic dens, and Ella wove some stick mats. Then sadly we had to take our dens down. Luckily, we had to put them up again the next day.
On the last day of forest school we made our shelters again to protect us from the rain that never came. Then Mr. Claxton told us to draw gargoyles on the trees. I did a Mr. Claxton gargoyle. Sarah another of my partners wiped mud all over her face. I made wonderful nettle face paint.
Then, sadly forest school was over for us year 6's.
By Esme Turner
Water Forest School
I loved Forest School because of the nature and creativity as well as the teamwork and co – operation. It let my mind become free and I learnt a variation of different survival skills such as: building your own tent, to cook popcorn, build entertainment, trusting people, collecting materials and starting a fire. I didn't dislike anything except the camp name, Camp Wild. It was a survival test that I found amazing and creative.
We first built a den for our ratty friend, Reggie the Rat. I teamed up with Ben Horsfield and we built an amazing den for Reggie. We all had a topic given by Mr. Claxton e.g. Body smart, People smart. We got Body smart which was the physical smart. The day after, we had to build our very own tent/den. I liked this the most because you could make the den in your image, not by instructions. It was very creative and you could go free with your imagination. We named our camp, Camp Safari. There were 4 members such as: me (Samuel Sean Evans), Ella Burke, Sarah Hoare and Esme Turner.
We built an amazing den with seats, tar pole, sticks and different types of materials. I walked over to the campfire and Mr. Claxton offered me to help start the fire that we cooked popcorn on. I enjoyed it very much as of the popcorn and the tent so I was petrified when we had to take down our dens. The day after, we were ready to leave but that didn't stop the fun that we had. We rebuilt our dens but even better this time. It started to spit (the rain ) so we all hid underneath our den which worked. I would defiantly love to build hammocks next time.
By Sam Evans
Forest School
My experience at Forest School was amazing! I learnt various different survival skills and had fun learning them. It was extremely enjoyable.
On the first day we made little homes for our little rat friend Reggie. We all got different topics to build his house around
(i.e, maths smart, body smart, music smart ect…)
On the second day we practiced making dens using various different materials including: Tarpaulin as a roof, sticks, twine, rope and rope nets. We also made some very tasty popcorn on a bonfire. After it was cooked we added some sugar. It was all so fun!!
On the final day we made some shelters to shelter from the rain. Unfortunately no rain fell so we were not able to test out the shelters in the real rain. So instead we poured water on top. We didn't have time to do anything else as we had to go back to school.
What I liked about forest school was the freedom you got also nothing was ever right or wrong. You didn't have to write down answers to questions or write certain things you could just let your imagination run WILD!
I didn't dislike anything as I found it was an absolutely amazing experience and I will treasure this for my entire life.
Next time I would like to build more cool things like build more dens and make more cool things. Also of course have lots and lots of fun!!
By Sam H