Welcome Back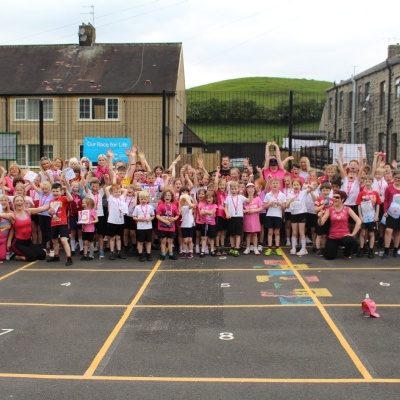 Information about the term ahead
Welcome back from hopefully a restful Easter break. Once again the staff, the children and I are looking forward to another great term, which will include many memorable moments.
Please can I take this opportunity to thank you all for your continued support of our school, vision and ethos.
I would also like to take a moment to thank our amazing staff. Each and everyone works so incredibly hard. It is wonderful to see everybody sharing the same attitude and enthusiasm. They all go above and beyond for our children. They are passionate about giving their best, in order to ensure our school is a wonderful place to learn and be. Thank you.
Towards the end of last term, the school was involved in a number of fundraising activities. Miss Lofthouse helped raise £370 for Comic relief through the organisation of a bake sale and 'Wacky Hair Day. Thanks again parents, grandparents and carers for your support in this.
Secondly, who could forget our end of term 'Water Does Strictly.' A brilliant way to end the term and to also raise the profile of Autism Week. Thanks again to Miss Howkins for raising £60 for this cause. The children were magnificent, such confidence and talent.
We had many many memorable moments during our sporting competitions last term. A highlight being our wonderful y3/4 Athletics team, who won all their competitions. Please see below for the updated RSSP competition table. We are extremely proud of our places, thanks again to our brilliant PE department and also to all the parents, who give up their time to help with lifts and cheer on our children.


As the weather improves, we will begin to move forward with our Forest School provision. Even though we provide outdoor education all year round, it is this time of the year where we begin our gardening projects and forest school activities for most classes. In order to cover the whole school, we have enlisted the help of 'Outdoor Olly' to provide further sessions for all our children. Outdoor education is so important and it is so important that our children learn outside of the classroom as well as in. Research confirms the impact to which being closer to nature has on our mental state. It improves social interactions and reduces anxiety and stress, whilst increasing energy levels. The benefits are wide-ranging, and here at Water we will try and ensure we provide a broad and balanced outdoor curriculum.
Our proposed timetable is as follows :-
Summer 1 – EYFS /YR1 Friday am
Yr 1 Friday PM
Yr 5 Monday PM
Summer 2 – EYFS / YR1 Friday am
Yr 2 Friday PM
Yr 6 TBC
Yr 3/4 TBC
Further letters and updates will be sent out in due course.
Reminders
You can find this blog online at
http://www.water.lancs.sch.uk/blog/?pid=21&nid=17
Facebook
https://www.facebook.com/Water-Primary-School-464734816961475/
Twitter @Waterprimary
Superstars and Good News info at
http://www.water.lancs.sch.uk/page/?title=Spring++Award+Winners&pid=289
Sports news
http://www.water.lancs.sch.uk/page/?title=2016%2D17+School+Competition+Fixtures+and+Sports+News&pid=30
All of the above pages are updated daily, please keep checking as well as Pobble and Class Dojo.
As always, my door is always open!
Mr Willan