Acorn Class - EYFS
Welcome to EYFS
Hello and welcome to the Early Years Foundation Stage (EYFS) at Water Primary School. Your EYFS team includes Mrs Smith as class teacher, supported by Mrs Greenwood as the class teaching assistant.
Our doors will open at 8:50am and our school day finishes at 3.25pm. Please aim to arrive as close to this time as possible (not early or late) in order to support us with social distancing throughout school.
This half term we will be looking at 'Creatures Great and Small' with a focus on British wildlife (Percy Park Keeper) and dinosaurs.
We will also be learning about and celebrating Ramadan and Eid. Ramadan starts when the new moon is sighted (likely April 12th/13th) and Eid is the celebration at the end of the fast.
Focused Learning
We will read and discuss a range of stories each half term. These stories will be used during our literacy and maths lessons. We will continue focused lessons of handwriting and phonics daily. Most children will now be learning phase 3 phonics, where they will focus on learning how to read and write (blend and segment) words using diagraphs and trigraphs (for example, ch, sh, th, ng, igh, ear, ure).
Not all of our learning in EYFS is through adult-led, focused groups. We also give children the opportunity to learn through play in time called continuous provision. This will continue throughout the year. Our provision will be enhanced with ITL's (Invitations to Learn) where special activities and resources are presented in the classroom (indoors and outdoors) in an inviting way to encourage the children to carry out tasks to help them develop and progress.
Learning through Exploration
Throughout the year, where possible, we will follow the children's interests. We will encourage children to share their hobbies and interests with us and provide them with the opportunity to develop these interests through independent learning in continuous provision. Children will also be supported to independently apply the skills taught by accessing provision both indoors and out.
PE
Acorn Class will have PE every Wednesday afternoon. Please ensure that your child comes to school dressed in their full PE kit. Children wear their PE kit, along with trainers, for the whole day every Wednesday. They can wear navy leggings or joggers with their kit if the weather's cooler.
Forest School
Our children will attend Forest School sessions every Monday morning.
Please can all Acorn children come into school in their full PE kit. Their waterproofs and wellies will stay at school so that we can get outdoors at other times.
"There's no such thing as bad weather, only inappropriate clothing" Ranulph Fiennes.
WOW Moments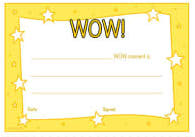 Small, WOW moment slips are available in class for you to take and fill in at home. If your child achieves something new, shares learning from school, or completes a task that you are particularly proud of, please write it on a WOW slip and we will add it to your child's learning journey.
Snack Time
In EYFS, we operate our own snack system. This ensures that children are able to try new snacks and make independent, healthy choices. Please log in to Parent Pay and pay the snack fees for each term so that your child can receive their snack daily.
Class Mascot
Pepe the puppy will start coming to visit your homes at the weekend. He will go home each Friday with one child. Please include him in your weekend plans and let him share in the fun you have as a family. Pepe will bring his pyjamas for the sleepover and also a notebook for you and your child to write, draw or add photographs to about his adventures with you. I look forward to hearing about his adventures. Please ensure that Pepe comes back to school every Monday, as he will need to remain untouched for 72hours to ensure that he can safely visit another home.
Keeping in Touch

As mentioned, please check Class Dojo for updates, and follow our adventures on Twitter - @mrsejsmith and @Waterprimary.
Don't forget, the door is always open so, if you have a query, please get in touch.
Many thanks.
Mrs Smith