Acorns - EYFS and Year 1
Welcome to Acorn Class
We would like to welcome you to the Early Years Foundation Stage (EYFS) along with Year 1 at Water Primary School. Your team includes Miss Hodgson as class teacher, supported by Mrs Greenwood as class HLTA, along with Miss Crowther and Miss Ahmed as the class teaching assistants.
As we get to know our new class, we would like to display a photograph in our learning environment of every child's family. Please send in a photograph/copy of a photograph for us to brighten up our classroom and get to know who is important to your child.
Focused Learning
We will be reading and discussing a range of stories each half term. These stories will be used during our literacy and maths lessons. We will also begin to teach your child handwriting and phonics through discrete lessons. Not all of our learning in Acorn is through adult-led, focused groups. We also give children the opportunity to learn through play in time called continuous provision (independent learning).
Learning through exploring
Throughout the year, where possible, we will follow the children's interests. We will encourage children to share their hobbies and interests with us and provide them with opportunities to develop these interests through independent learning in continuous provision. Children will also be supported to independently apply the skills taught by accessing provision both indoors and out.
PE
Throughout the first half term, EYFS PE will take place every Monday morning and Year 1 PE will take place every Monday afternoon. If your child is not wearing their tracksuit all day, every day, please ensure that they wear their full tracksuit with shorts and t-shirt underneath on their PE day so that we have the flexibility to train inside or out, depending on the weather.
Forest School
Our day in the forest is on Friday. EYFS will be going every Friday morning so please send in your child wearing their Forest School layers. Year 1 will be going every Friday afternoon so please send in your child's Forest School clothes (waterproofs and Wellington boots) in a labelled carrier bag which they can then put over their PE tracksuits after lunch.

Class Dojo

For those of you who haven't yet used Class Dojo, it is an online system used to award points to children for a range of things, such as: positive behaviour; working hard; sharing; being kind to others… It is also a way that we can send messages to one another. You should have received an email invitation asking you to join Class Dojo.
Snack Time
In Acorn, we operate a snack system. If you would like your child to have snack, please pay for it on Parent Pay at the beginning of September, which will cover your child's snacks for the full half term until November.
WOW Moments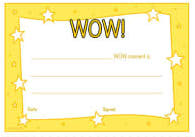 Small, WOW moment slips are available in class for you to take and fill in at home. If your child achieves something new, shares learning from school, or completes a task that you are particularly proud of, please write it on a WOW slip and we will add it to your child's learning journey.
Keeping in Touch
Once up and running, please check Class Dojo for updates, and follow our adventures on Twitter - @MissHodgson1, @_MrsGreenwood and @Waterprimary.
Our door is always open and if you have any questions please do not hesitate to speak to us before or after school.
Many thanks.
Miss Hodgson and Mrs Greenwood