Class 3
Welcome back Class 3!
We are sure you all had a fantastic Easter holidays and are looking forward to coming back! Myself, Miss Nuttall, Mrs Sanderson and Mr Riley cannot wait to see all your smiling faces when you return to school!
I am so excited about our next topic! This half term we are learning all about the most famous Queens of England in our topic, 'God Save the Queen!' Over the next 7 weeks we will learn all about Queens throughout British history and the impact they had on the world. We will get to dress, eat, dance and draw like a Tudor, visit a real Tudor manner house and learn about how Queen Elizabeth II changed England's view on women rulers. We will the dive into Victorian Britain, learning about the mills, child workers, Buckingham Palace and Queen Victoria herself! Finally, we will look at our current queen, Queen Elizabeth II and her family, including the very special upcoming wedding!
As part of this, we will be learning about William Shakepeare in English, doing a study of playscripts and focusing on 'The Tempest'. We will then be singing along to 'Oliver!' and doing a novel study on Charles Dicken's novel.
Our Maths focus this half term is place value, weight and capacity, multiplication and division and 3D shapes.
After half term we will be continuing our guided reading book. This book is called The Secret of Platform 13 by Eva Ibbotson. Each child will be provided with a book by school. The system of whole class Guided Reading will continue. We have seen this system of guided reading work extremely well and the children really enjoy reading together as a class.
We also expect children to be reading at home most nights, whether this is independently or with an adult. Please can you ensure that their reading records are signed when they read and returned to school in order to be checked. These are checked daily so the children can read as many books as possible. We also expect children to be completing 3 pieces of homework each week, to be handed in by Wednesday.
Our P.E. lessons will continue to be a Monday afternoon. We would like all children to attend school on a Monday in their PE kit,as we will be teaching Maths and English in an active way. Please can every ensure they have:
White T-shirt, blue shorts and black pumps for when children are indoors. Hoodie, longer tracksuit pants and trainers for outdoor use only. Can children please ensure that they are able to remove their own earrings for safety reasons for those lessons.
There will no longer be swimming lessons or Forest School for Class 3.
We will continue using the class reward system Dojo. Children will collect points for a number of things, including participating, hard work and helping others. Each week the winner of the dojo points will ge to take home our very own Gruffulo! Over the weekend it would be fantastic if the children could take a selfie with the Gruffulo in an exciting place and be creative with what they do with him.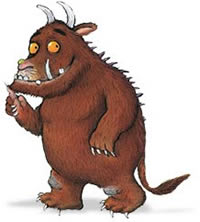 The door is always open in Class 3. If you ever have any queries, worries or would like anything explaining, please don't hesitate to come in. I am always available and will help you in any way I can. Miss Nuttall is also in class every day with the children and will also be of help if needed.
Miss Lofthouse